I'D LIKE TO SEE EVEN MORE OF YOU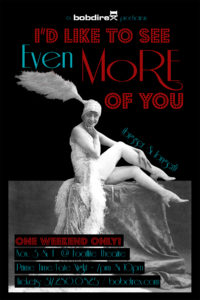 It's back! The 2016 Indy Fringe hit returns for one weekend only at Footlite Musicals!
I'D LIKE TO SEE EVEN MORE OF YOU is a continuation of the 2016 Fringe Festival Hit of a similar name, I'D LIKE TO SEE MORE OF YOU.
Since this will be our second date, we're going to go bigger and longer than before.  This show promises you the best singing, dancing, laughing, and undressing all in one place at one time.
One Weekend only – November 3 and 4 with 7pm Prime Time Shows and 10pm Late Night Shows.  All seats are $20 and NOT reserved so first come first served.  This show is Adults Only 18 years and older.  There is no maximum age limit !!!
Presenting the best burlesque Indy has to offer will be  Claire Wilcher, Stacia Hulen, Jenee Michele, Rayanna & Rachel Bibb, Lincoln Slentz, Kris Ezra, Danny Kingston, Evan Wallace and Miss Gay Indiana, Blair St. Clair
For Questions or more information:
Bob Harbin
317.280.0825
bobdirex@aol.com