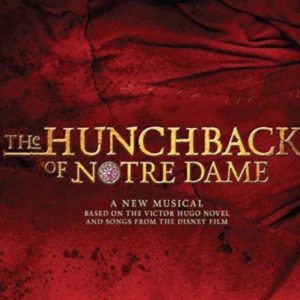 THE HUNCHBACK OF NOTRE DAME opens June 23, 2017 at Marian University Theatre. The show will run for 9 performances, June 23, 24, 29, 30, July 1, 2, 7, 8, 9. The run will
include two Sunday matinees that begin at 3pm. All other performances are at 7:30pm. All seats are reserved at $25 with discounts for Seniors and Students available. Tickets
can be reserved by calling the box office at 317.280.0825 or online.
CAST LIST: 
DOM CLAUDE FROLLO, the Archdeacon of Notre Dame: BILL BOOK
QUASIMODO, the deformed bell-ringer of Notre Dame: JACOB BUTLER
ESMERALDA, a beautiful gypsy: SHELBI BERRY
CLOPIN TROUILLEFOU, the king of the gypsies: KEITH POTTS
PHOEBUS DE MARTIN, the Captain of the Guard: LOGAN MOORE
FREDERIC CHARLUS, the Lieutenant of the Guard: CHRISTIAN CONDRA
MADAME, the owner of a brothel: TARA ROBERDS
SAINT APHRODISIUS, an image that comes to life: PHIL CRISWELL
GARGOYLES, the stone friends of Quasi: CURTIS PETERS, MATT ROHRER, APRIL ARMSTRONG-THOMAS
TOWNSPEOPLE: ERIN ELBERFELD, JORDAN FREDERICK, TORI GOWDY, AMANDA BOLDT, ASHLEY SAUNDERS, TRENTON BAKER, VINCE ACCETTURO, TJ FORD CUNNINGHAM, NIC ROMAN
CATHEDRAL CHOIR, the backbone of the Cathedral: LOUISE LINGNER, ELENA WARD, MARY MARGARET MONTGOMERY, MAGGIE LENGERICH, JULIA PERILLO, RACHEL WHITLOCK, GENEVIEVE FEILER, ARLENE HASKIN, EMILY TRITLE, LEIGH ALEXOVICH, RORY SHIVERS-BRIMM, DANIEL DRAVES, RON DUKES, BRADLEY KIEPER, CALEB MORGAN, JERRY BEASLEY, CLAY MILLER, DAVID BROCK, DANNY ROBERDS, DARRIN GOWAN, BRENDEN EVERITT