May 17, 2010
FOR IMMEDIATE RELEASE
For additional information contact:
Bob Harbin 317 / 361 – 5662
Bobdirex@aol.com
A FUNNY THING HAPPENED ON THE WAY TO THE FORUM
Athenaeum Theatre
July 22 – August 7, 2010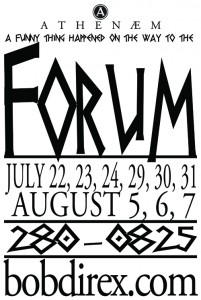 A Funny Thing Happened on the Way to the Forum is a musical with music and lyrics by Stephen Sondheim and a book by Burt Shevelove and Larry Gelbart. The musical's original 1962 Broadway run won several Tony Awards, including Best Musical and Best Book. Successful revivals of the musical were done in 1972 and in 1996 both winning additional Tonys.
"Tragedy tomorrow, comedy tonight!" Broadway's greatest farce is light, fast-paced, witty, irreverent and one of the funniest musicals ever written. A Funny Thing Happened On The Way To The Forum takes comedy back to its roots, combining situations from time-tested, 2000 year old comedies of Roman playwright Plautus with the infectious energy of classic vaudeville. The result is a non-stop laugh-fest in which a crafty slave (Pseudolus) struggles to win the hand of a beautiful but slow-witted courtesan (Philia) for his(her) young master (Hero), in exchange for freedom.
Every actor who has opened in the role of Pseudolus on Broadway (Zero Mostel, Phil Silvers and Nathan Lane) won a Best Actor Tony for his performance. The show then attempted a run with Whoopi Goldberg in the lead role. Not to put too much pressure on Claire, but that's what excited Bob Harbin, the show's producer/director, about trying another production of the show in Indianapolis. "How will a woman do here in a role everyone is used to seeing a man do?"
"I've worked with Claire before (Full Monty & Victor/Victoria)and have watched her grow into an amazing talent," says Bob Harbin, the show's producer/director. "Just a month ago she was flown out to Los Angeles by Warner's Television to test for a CBS pilot and competed eye to eye with the best in the country. What a great opportunity to see such a unique young woman in this unique role."
John Austin Butsch and John Phillips will be doing all the vocal work with the cast. "This is truly an Indianapolis All-Star cast," notes Butsch, "great voices everywhere." Bernie Killian, Wendy Taylor, Donna Hutchens, Matt Cunningham and Rodney Tolliver will all be back to shore up all the technical challenges.
Casting includes Claire Wilcher, Scot Greenwell, Vonda Fuhrmann, Karlton D. Turner, Kate Bridle, Paul Hansen, Brenda Upchurch, Matt Patterson, Mark Fishback, Dave Rosencrans, Da'Keisha Bryant, David Terry, Jenny Shoup, Jenee Michele, Kelsey Breece and Chris Langler.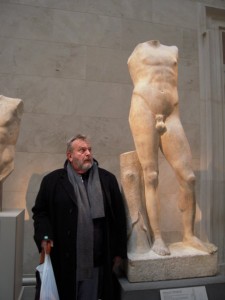 The production will play for three consecutive weekends, Thursdays through Saturdays, July 22-24, July 29-31 and August 5-7. All shows begin at 7:30pm. Tickets are on sale now and are wallet friendly $20 with discounts for seniors and groups over 20 people. Tickets can be purchased at the website www.bobdirex.com or by calling our ticket number 317 / 280-0825.
The location is the historic Athenaeum Theatre at 401 East Michigan Street Indianapolis, Indiana 46204. Dinner and cocktails are available before and after performances at the famous Rathskeller restaurant in the basement of the building. The reservation number there is 317/636-0396. Parking near the Athenaeum is free at parking meters on the street after 6pm and all day on weekends. There are several other parking opportunities within short walking distance of the theatre.